1 Jul
Creating vignettes is my favorite part of decorating. It's so rewarding when you finally achieve the perfect arrangement of decorative items. One of my favorite blogs, A View Along The Way (along with some other really great bloggers), recently created a monthly decorating challenge called Ditto DIY. Each month, they post an image of a design trend or vignette and then challenge readers to complete a project inspired by the design. This month's challenge: framing fabric as art. Here's the inspiration image: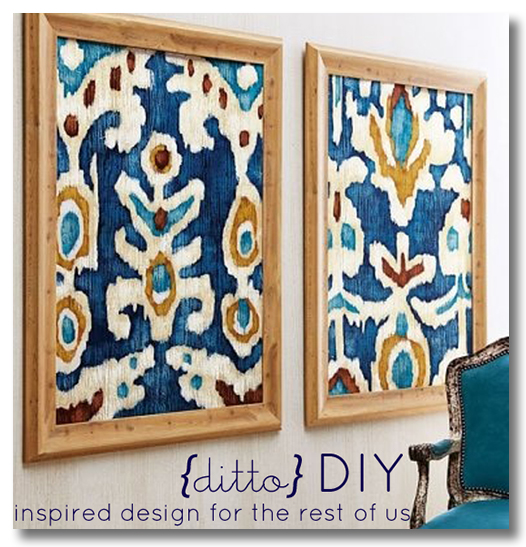 Image via Neiman Marcus
Fortunately (or unfortunately!) I've finished decorating most of my home, so I've been itching for a design project. The Ditto DIY challenge was the perfect opportunity to exercise my creative muscle! Here's the fabric I chose for the project:
I actually purchased this fabric for another project. More than a year ago I bought a vintage chair that is in major need of some TLC.  I was having a really hard time finding the right fabric to reupholster the seat and then this weekend, I got lucky! This amazing print is called Stella Mosaic and it's from JoAnn Fabrics. This pattern has a vintage yet modern feel, exactly the balance I'm trying to strike with the mid-century chair I'm refinishing.
Framing fabric is an incredibly easy DIY project, requiring just a few supplies:
Frame (mine is from Michael's)
Fabric
Scissors
Pen/pencil
Iron (optional)
However, if there was one thing that could trip you up, it's positioning the fabric in the frame. Depending on the size and repeat of the pattern, make sure to purchase enough fabric so the pattern can be centered in the frame. In the past, I've not paid attention to how the fabric was cut and realized later that the part of the pattern I liked was near an edge, making it impossible to center in the frame.
The color palette of this pattern was one of the main reasons why I purchased this fabric. I tend to gravitate toward vibrant graphic prints. In styling the vignette, I decided to stick to a pink color story and added items I had laying around the house, including:
A framed book page (book to art tutorial here)
Vintage beaded necklace I recently scored thrifting
Black & white polka dot bowl from Ikea
Black & white serving platter from Crate and Barrel
Small dipped wooden pot from Wind & Willow Home
Antique Chinese sculpture (I'm crazy about this thrift store find)
There will be a number of bloggers linking up to this challenge, so I encourage you to pop on over to the hosts' sites for a major dose of design inspiration. I can't wait to see how others have interpreted the challenge and incorporated framed fabric into their decor.
The ten hosting bloggers include:
Darlene @ Fieldstone Hill Design
Ruth @ Living Well Spending Less
Cindy @ Skip to My Lou
Jen @ Balancing Beauty & Bedlam
Edie @ Life in Grace
Rachel @ Surviving the Stores
Karin @ Trophy Mom Diaries
Lauren @ I am THAT Lady
Kelly @ View Along The Way
Melissa @ The Inspired Room
Have you framed fabric before?
xoxo, Andi